One of the great remembered joys of my youth, three centuries ago, was Cho Cho Chocolate Malted Ice Cream. It was better known as a "Cho Cho" and we could buy one at Cappelli's Grocery Store next to Thornton School in Johnston in the 1940s and 1950s. They also sold penny-candy by the tons to us cavity-prone kids. A Cho Cho cost just 5 cents! One nickel! You had to eat it on a popsicle-stick, not with a spoon. Today you couldn't get the stick for a nickel, and the Cho Cho would probably cost a buck and a half, except that it isn't made any more, to my knowledge.

There was a ritual to eating one. It came frozen in an ice-cream cup. The top lid had a slit through which you inserted your stick (sexual subtext here.) The ice cream was soft enough to make insertion simple (oooh, don't stop.) Then, you had to roll the sides of the cup in the palms of your hands for a few seconds and dislodge the contents from the cup (yes, yes, almost there!) The cup was then discarded and you ate the soft ice-cream like a popsicle, licking the top and sides (mmmmm, was it good for you too?) Some of it always melted onto your shirt (gotta wipe that up!).

The taste of a Cho Cho was dreamy, at least to me as a child. Not really like regular chocolate ice cream. The taste of the malt dominated, a wondrous primal comforting flavor like no other, or maybe like a malted milk shake in solid form.

I tried to find a historic picture of the Cho Cho, and Google could only help me with this one I'm posting below. It is a figurine-promotion with a clown atop a representation of the Cho Cho cup. Notice the price of 5 cents. It is being auctioned on eBay in the $4000-$6000 range. But you know, I don't care about that. What I do care about is having again a real Cho Cho. For that pleasure, instead of a nickel, I'd pay $10,000. It is unlikely to happen. When youth is lost, it is lost forever. The same is true for the Cho Cho.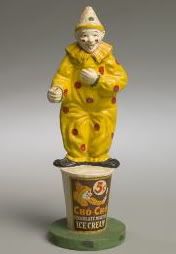 Clown with Cho Cho. Vintage promotional figurine.